B-spot: Component 38 w/ just two icons per column
IT'S A PROBLEM SOME WEARERS EXPERIENCE
As much as 53% of certain daily disposable wearers still experience contact lens dryness.†
Before you decide to stop wearing contacts, talk to your eye doctor. They can offer ways to help, including specifically formulated solutions and moisture-maintaining contact lenses.
†Results of a consumer symptoms survey of 318 silicone hydrogel daily disposable contact lens wearers. Kadence International, April 2019.
C-spot: component 32, note H3/H4 instead of H2
BAUSCH + LOMB CONTACTS THAT HELP MINIMIZE LENS DRYNESS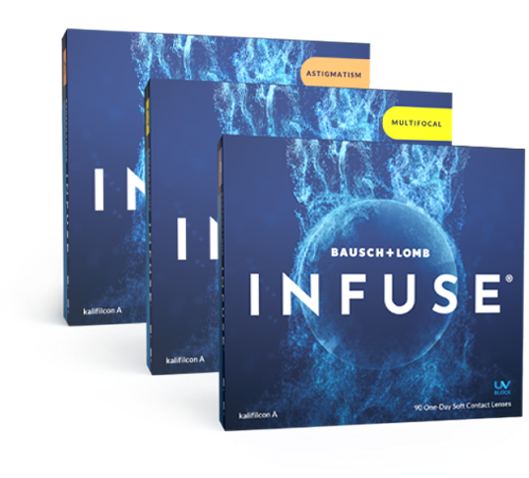 INFUSE® ONE-DAY CONTACTS
Designed to help minimize lens dryness with a unique material and ingredient combination.
Go To Infuse®
D-spot: Component 33
Try them FREE*
Already know which lens you'd like to try? Get a FREE* trial for INFUSE® One-Day, Biotrue® ONEday, and ULTRA® Monthly here.
Try Contacts FREE*
FIND AN EYE DOCTOR
Search for a nearby eye doctor who can fit you in your FREE* Bausch + Lomb daily trial lenses.
Search Now
*An eye exam may be necessary before receiving your free trial, and the free trial does not include the cost of an eye examination or any other professional fees. Certificate entitles the bearer to a 5-day trial of Biotrue® ONEday, a 10-day trial of Bausch + Lomb INFUSE®, or one pair of Bausch + Lomb ULTRA® contact lenses.